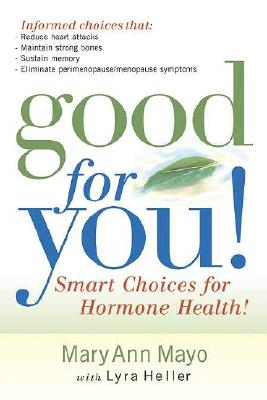 Stock Image
Author/Artist Name Mayo, Mary Ann
Title Good For You: Smart choices for hormone health!
Binding/Format Paperback
Size 6.7 x 0.7 x 8.4 inches
Publisher/Vendor US Siloam 2003
ISBN/UPC Number 159185170X / 9781591851707
Seller ID 9781591851707
List Price $14.99 OUR PRICE $13.49
More Description
"You are competent and powerful, and YES, you do have choices ""This book is destined to become 'the' book on menopause. It provides the latest scientific information to empower women to cut through the confusion and make informed choices about nutrition, herbs, supplements and hormone replacement therapy. If you are entering or are already in menopause, this book is absolutely Good for You "Joel M. Evans, M.D.Founder and Director, The Center for Women's Health, Darien, CTAssistant Clinical Professor of OB/GYN, Albert Einstein College of Medicine"Healthy living is exciting and self-motivating "You can become a critical thinker when it comes to your health, your hormones and your happiness. By 2015 half of American women will be menopausal. To give you a better image of yourself, Mary Ann Mayo holds up a new mirror and asks questions like: Was HRT ever really necessary What have you been telling yourself about exercise What is your baseline How do your finances and insurance affect your view of health If you could make one small step toward a healthier life, what would it be?"No one wants to age, but it happens anyway. Be prepared...naturally "

Price = 10.04 USD 7.03 USD