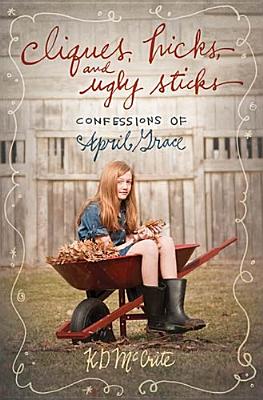 Stock Image
Author/Artist Name McCrite, K. D.
Title Cliques, Hicks, and Ugly Sticks
Binding/Format Paperback
Size 5.6 x 0.8 x 8.5 inches
Publisher/Vendor US Thomas Nelson 2011
ISBN/UPC Number 1400318262 / 9781400318261
Seller ID 9781400318261
List Price: $9.99 OUR PRICE: $8.99
More Description
Just when April Grace thought the drama was over . . .
After an automobile accident, Isabel St. James--resident drama coach and drama queen--needs help putting together the church play. Mama insists April Grace and Myra Sue will help. April's fall is now devoted to spending every afternoon with Isabel and Myra Sue--if anyone is as big of a drama queen as Isabel, it's Myra Sue. Plus, she's dumb. (Okay, not dumb, but "older sister dumb.") If that's not enough, Isabel is wreaking havoc in the community trying to get Rough Creek Road paved, the new boy at school will "not" leave her alone, and then Mama drops the biggest bombshell of all . . . April Grace is no longer going to be the baby of the family . . .
Girls will completely relate to April and love her sense of humor as she deals with siblings, boys, and the many changes that come with growing up.
Price = 5.99 USD 4.49 USD