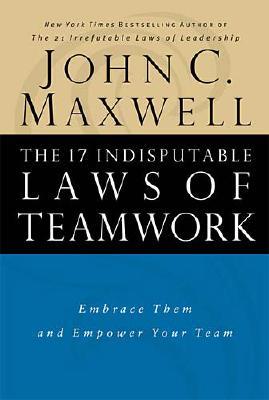 Stock Image
Author/Artist Name Maxwell, John C.
Title The 17 Indisputable Laws of Teamwork: Embrace Them and Empower Your Team
Binding/Format Hardcover
Condition Used: Like New
Jacket Condition Used: Like New
Size 6.4 x 1 x 9.3 inches
Publisher/Vendor US Thomas Nelson 2001
ISBN/UPC Number 0785274340 / 9780785274346
Seller ID 0785274340LN
List Price $19.99
More Description
Building and maintaining a successful team is no simple task. Even people who have taken their teams to the highest level in their field have difficulty recreating what accounted for their successes. Is it a strong work ethic? Is it "chemistry"? What tools can you wrap your hands around to build-or rebuild-your team?
In The 17 Indisputable Laws of Teamwork, leadership expert and New York Times bestselling author John C. Maxwell shares the vital principles of team building that are necessary for success in your business, family, church, or organization. In his practical, down-to-earth style, Dr. Maxwell shows how: The Law of High Morale inspired a 50 year-old man who couldn't even swim to train for the toughest triathlon in the world. The Law of the Big Picture prompted a former U.S. president to travel crosscountry by bus, sleep in a basement, and do manual labor. Playing by The Law of the Scoreboard enabled one Web-based company to keep growing and making money while thousands of other Internet businesses failed. Ignoring The Law of the Price Tag caused one of the world's largest retailers to close its doors after 128 years in business. The 17 Indisputable Laws of Teamwork will empower you-whether coach or player, teacher or student, CEO or non-profit volunteer-with the "how-tos" and attitudes for building a successful team.
John C. Maxwell, known as America's expert on leadership, is a best-selling author and the founder of INJOY Stewardship Services, EQUIP, and Maximum Impact, dedicated to helping people reach their leadership potential. For more information, visit www.MaximumImpact.com.
Price = 9.98 USD 7.49 USD